Parish News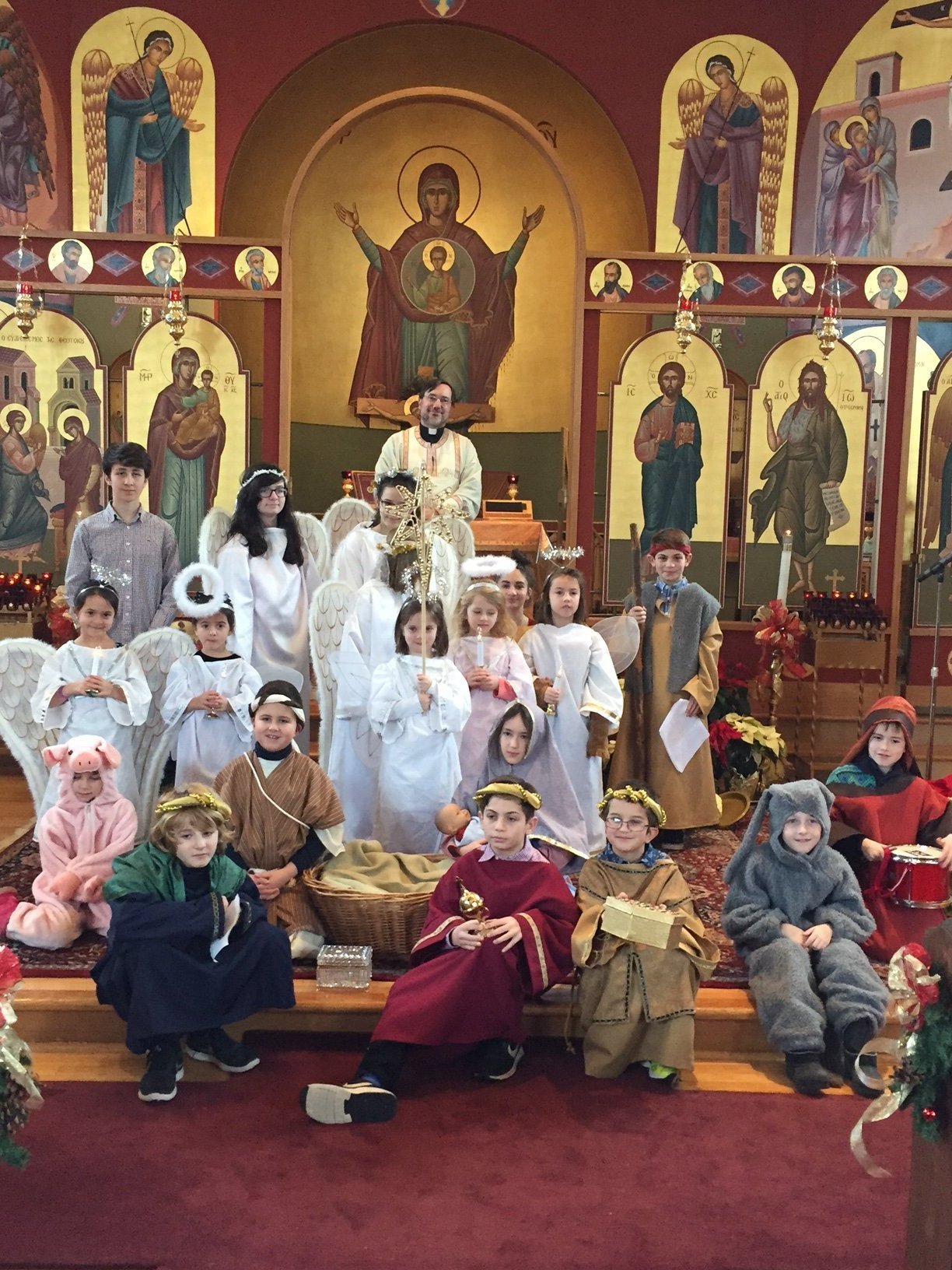 2017 Christmas Pageant
The Christmas Program presented by the Sunday School was enjoyed by all. Many thanks to our Sunday School Director Jill Argyrople, to the pageant director Melinda Patrick, the children, Sunday School teachers, and parents who worked so hard to bring us this lovely program. See more Photos of the event here.
Elections Results for 2018 Parish Council
Congratulations to the following new or re-elected 2018 Parish Council members: Ed Connor, Maria Connor, Jennifer Cooper, Jim Georgopoulos, John Housianitis and Daphne Tikellis.
The new Parish Council will convene in January.
2017 Stewardship Fulfillment Needed
As we enter the new year, the Stewardship Committee asks those who have yet to fulfill their 2017 pledge to please remember the financial obligations of our church. Unfortunately, we are far from reaching out 2017 Stewardship goal, and our beloved church needs your help. We gratefully acknowledge those who have already fulfilled their pledge for 2017.
Urgent Need: Winter Clothing Drive for Hurricane Victims Now Living in Essex County
Please look and see if you have an extra unneeded coat or a pair of gloves or mittens, or socks or blankets. We have placed large totes in the Narthex to accept donations. Items need not be new, but do need to be clean and in good condition. The drive will continue all the Sundays of January. Tell others too. The need is great. The Narthex at Annunciation Church is open every Sunday morning from 9 to noon – donations can be dropped off at that time or Mondays at the community meal sponsored by St. Basil's Ministries. Read More. Thank You!
PanHellenic Scholarship Application
The 2017-18 scholarship application is now available for the first time in digital format, and we ask that you share this opportunity with every exceptional Greek American college student you know. Please visit our website to apply online; submissions and all supplementary materials are due by January 31, 2018. We also ask that you save the date for our next Awards Ceremony and Gala, taking place Saturday, June 16, 2018 at the Hilton Chicago - we hope to see you there.
Lessons from the Greek Kitchen

We will again offer cooking lessons though Newburyport Adult and Community Education. Proceeds will support the Nicholson Hall Kitchen Committee efforts to stock and organize the kitchen. Lessons will be offered Thursday evenings in February. Harry Zarkades wine expert from Kappy's in Peabody is collaborating to bring you this Greek cooking series with wine pairings. Cooking demonstrations and lessons as well as "take homes" for this session will include: Cephalonian meat pie, our famous festival Plaki haddock with a tomato and vegetable topping, Flaounes a Cypriot cheese pie and vegetable Moussaka. We will finish each class with a taste of Harry's recommended wine served with the entre we are preparing and a different salad each week. You will take home a ready to heat dinner for four. Come and try these very old foods made new for you paired expertly with the perfect wine! Register here.
Thank You! -
Thank you to all those who made Christmas Donations for families in need.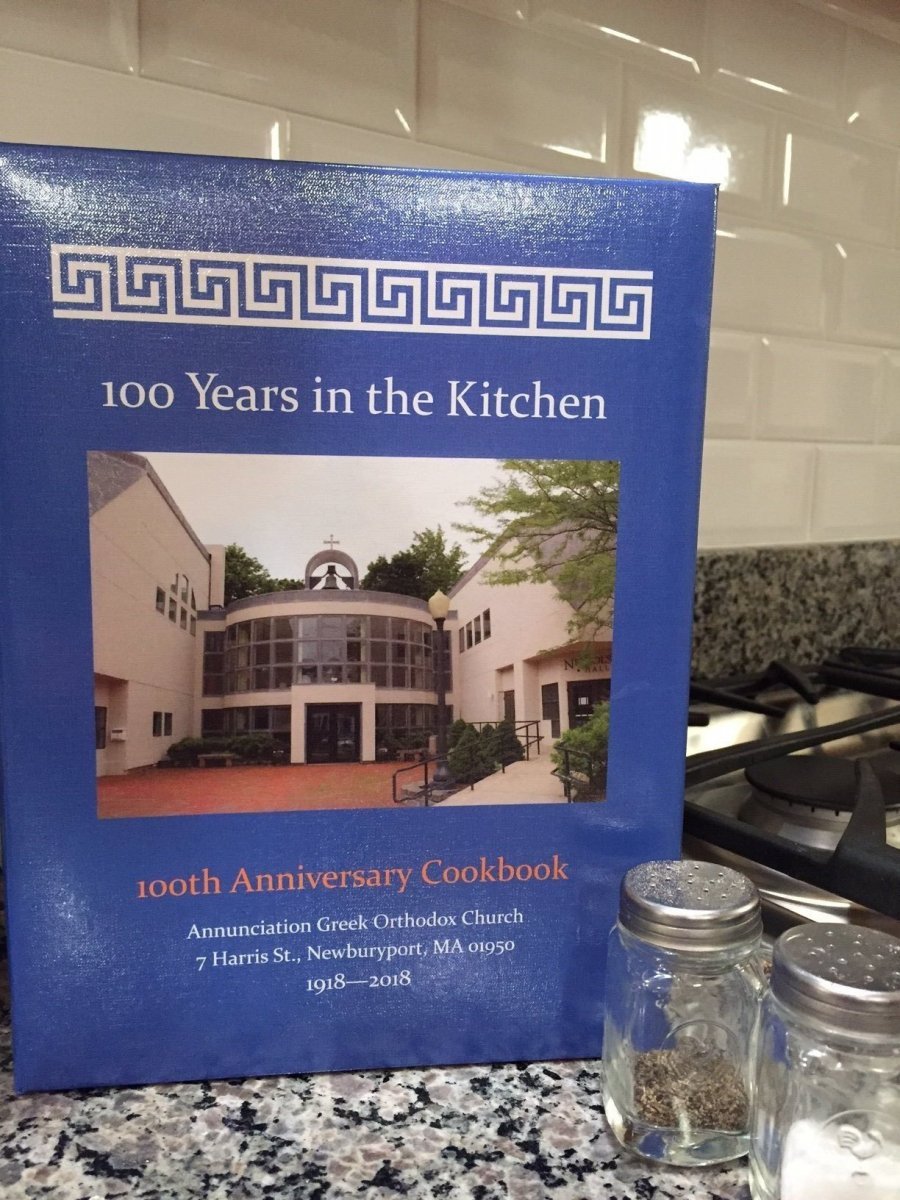 "100 Years in the Kitchen" Cookbook - The Perfect Gift!!
Our parish members have shared their Greek recipes passed down through generations and more in this rare cookbook compiled for our 100th anniversary celebration. The cookbook is available now for $20 and can be purchased at The Annunciation Church Candle Stand in the Narthex, the Daniel Lynch Pharmacy, Tina's European Fashions and Dance Place of Newburyport or by contacting Andrea Jones at andreajones1@comcast.net. Surprise your loved ones with this special gift!!
100th Anniversary Update
Our 100 years celebration of Greek Orthodoxy in Newburyport has begun! The parish council decided to recognize the date of December 18, 2018 as the anniversary of our Church. See the full year schedule of planned Monthly activities here. Please reach out to our 100th Anniversary co-chairs of Andrea Jones and Charlie Neos. Each monthly event has many tasks to fill and could use your help. Please come to one of the regularly scheduled meetings listed on the calendar Tuesdays@6:30PM or Sundays@11:45AM and offer your time, talent and energy.
Request for Pictures and Any Documents Related to our Parish
We are looking for your old pictures and documents of activities from events that were held at our church over the past 100 years! This can include photographs, as well as programs, tickets, raffle prize tickets, flyers and newspaper clippings of events, etc. Also, please send sedding, baptismal, ordination or any other pictures of events taken in our Church. Pictures and items circa 1918-1924 please send asap so that we may include them in our Founders Day event. Thank you!
Clean copies may be sent electronically to Tina Papadopoulos at tpapadop@aol.com with dates and names of persons and events.
Please Note
If you have recently moved or changed your email address, please contact Stacey Kevorkian at staceykevorkian@gmail.com so that we can keep both our mailing list and the listserv for email current. Thank you!
Save the Date
January 14 - Cutting of the Vasilopita
January 21 - St. Basil's Winter Tea
Please join us in St. Basil's Hall immediately following Divine Liturgy for this special winter event of High Tea: featuring beautifully decorated tables with traditional scones, finger sandwiches, tea and cakes served. Proceeds from this donation only, un-ticketed event will be used to fund the purchase of a second dishwasher for the Church to facilitate clean up in St Basil's kitchen during events, scheduled St Basil's lunches and the GFF.
Begins February 1 - Greek Cooking
We will again offer cooking lessons though Newburyport Adult and Community Education. Classes will be held on Thursday evenings starting February 1st and ending February 22nd. Click here for more details and to register.
February 4 - Soup Cook-off
Join us for this special coffee hour following Divine Liturgy in Nicholson Hall. Bring a crock-pot full of your favorite soup to share at coffee hour and we will supply the cups and spoons for tasting. A prize will be awarded for the winning cook! All cooks and tasters alike are welcome to take part in this parish event and enjoy time together. A suggested donation of $5 per person. Entry form should be returned to a member of the Stewardship Committee by Sunday, January 28th and is available here and in the Narthex.
Parish Resources

Weekly Sunday Bulletin View the parish weekly news bulletin online, includes news and events.

Monthly Bulletin - The Beacon
Shining Forth the Good News!

Orthodox Marketplace - The official online store of the Greek Orthodox Archdiocese of America.
Send an Iconogram Send a message to a loved one or a friend in celebration of a name day, feast day, or sacrament.

Annunciation Online "Like" our Facebook page so that you may be kept up on services, events and activities.


Online Chapel