Parish News
Download Weekly Bulletin - Here
Funfilled week for Metropolis Campers!

On July 4 - 10th Fr. Costin along with several members of our youth participated in a week long journey at the beautiful Metropolis Camp located in Contoocook, NH to strengthen their faith and establish relationships based on the camp pillars: trust, honesty, respect, forgiveness, openness and love. Their daily activities included time to reflect, journel and pray, Vespers, discussions on issues facing campers daily lives, the Gospel and its teachings, and many exciting group activities including soccer, fishing, basketball, swimming, chanting, greek dancing and much more. See photos from this amazing week here.
For more information see www.mbcamp.org.
Sunday School Graduation
On Sunday June 12th following Divine Liturgy our Sunday School students were recognized for another year of commitment to understanding the teachings of Christ. Each student was awarded a signed certificate from their teacher along with a beautiful cross pendent. A festive coffee hour followed with a decorated graduation cake. See photos here.
Congratulation to our Graduating Seniors - Scholarship Winners Announced!
Following the Divine Litrugy on Sunday, June 12th the graduating seniors of Annunciation Church were honored with a special ceremony of thanks and prayers as they move on to the next important chapter of their lives. All of the senoirs received a monetary gift from the Greek Ladies Aide Society and the Men's Club. The recipients were Briana Anderson, Alexander Connor, Daniel Hansen, Morgan Nakis, Angela Patriakeas, Malina Popescu. In addition, the following students were honored with scholarships.
The Annunciation Greek Orthodox Church Evangelism Team Scholarship: Alexander Connor, Daniel Hansen, Malina Popescu
Jamile Miriam Nabhan Scholarship: Briana Anderson, Angela Patriakeas
Michael P. Klidaras Scholarship: Alexander Connor
Greek Food Festival - Preparations Underway!
Our Greek Food Festival Scheduled during Newburyport's Yankee Homecoming Week will take place July 29, 30, 31st rain or shine! Bring your family and friends to enjoy delicious homemade Greek cuisine including: gyros, lambshanks, chicken and lamb kabobs, keftethes (meatballs), spinach pie, pastichio, moussaka, Greek salad as well as Greek pastries. Dine outside or inside our comfortable air-conditioned Nicholson Hall located at the intersections of Harris Street and Park Street in beautiful downtown Newburyport.
Food Workshops are taking place throughout the weeks leading up to the festival. Volunteers are needed now, as well as during the festival to keep things running smoothly. Sign-up here to make help make this our best festival ever!
Festival Raffle Tickets Available Now
Get your $100 raffle tickets now for the food festival. Only 50 will be sold this year. Contact Charlie Neos at 617-240-8313 for details.
The Giving Tree – Can you help our tree grow?
The Giving Tree is a way to raise money needed to cover the many costs of our very successful Greek Food Festival. A donation sheet and list of needed items is attached here and also located in the Narthex. Once you make your donation, be sure to place your name on a flower or butterfly from the Narthex display and attach it to the tree found here. If mailed, we will do this part for you. Watch our tree grow with your generosity! We are grateful for any donation large or small.
Please Note
If you have recently moved or changed your email address, please contact Stacey Kevorkian at staceykevorkian@gmail.com so that we can keep both our mailing list and the listserv for email current. Thank you!
Greek Ladies Aid Society
Membership cards for 2016 are now available. Please see Diane Hansen to update your membership for 2016. A donation of $15 goes a long way in helping us help others less fortunate than ourselves.
Save the Date
July 29, 30, 31 - Greek Food Festival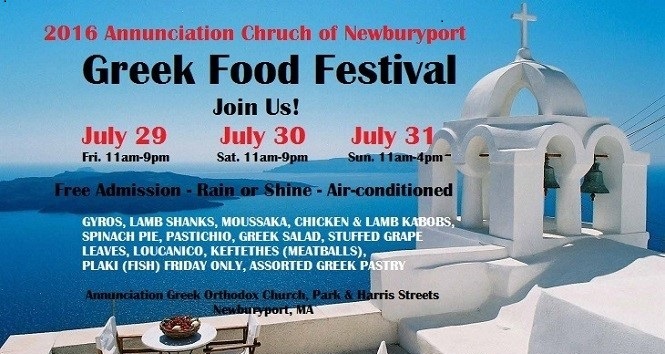 There is no better way to kick-off the Newburyport Yankee Homecoming Week than with delicious Greek food and desserts prepared and served by members of the Annunciation Greek Orthodox Church!
July 30th - August 7 - Eat Greek All Week!
New this year - Look for our Gyro Cart on Inn Street during Newburyport Yankee Homecoming Week!
October 1 - "Cabaret and All that Jazz" with Ariana Savalas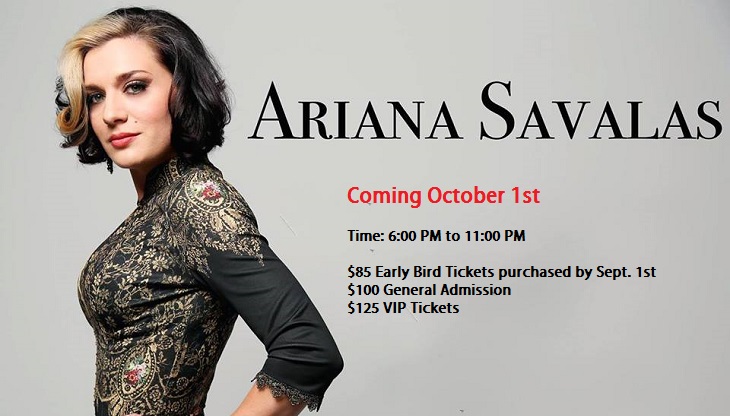 Join us on Saturday, October 1, 2016 with Ariana Savalas, the youngest daughter of legendary Telly Savalas. Ariana will fly in from LA to entertain us with her signature smooth as silk vocals, quick wit, and a delightful sense of humor. A very special evening is planned with Hors d'oeuvres, Cash Bar, Silent Auction and other surprises! Door opens at 6 pm, show begins at 8 pm. Tickets: Early Bird $85 by September 1st, General Admission $100, VIP Tickets $125. Sponsorship opportunities are available. For tickets or more information, please contact Tina Papadopoulos at 617-828-7543 or tpapadop@aol.com.
Parish Resources

Orthodox Marketplace The official online store of the Greek Orthodox Archdiocese of America.
Send an Iconogram Send a message to a loved one or a friend in celebration of a name day, feast day, or sacrament.

Weekly Parish Bulletin View the parish weekly news bulletin online, which includes news and events.


Online Chapel