Parish News
Palm Sunday Luncheon April 21st
Join us immediately following the Divine Liturgy for a delicious lunch prepared by the Greek Ladies Aide Society (GLAS). The menu consists of Baked Haddock with traditional crumb topping or new this year, Baked Haddock Plaki Style with vegetables! Sides include Green Beans in tomato sauce, Rice, Salad, Coffee & Dessert. Cost of meal is $18.00. Macaroni & Cheese is also offered for $5.00. No tickets will be sold at the door. See attached form to make your reservations by 4/14.
Make This Easter Extra Special
Reserve an Easter Lily to beautify our church for Easter in "Memory of" or "For the Health Of" a loved one. Donation is $15 per plant. See the attached form and return no later than April 21st or contact Irene Katsoulis with your request at (978) 372-3593.
Luminary Bags & Lenten Donations
Another beautiful way to remember loved ones, both living and deceased during this blessed season. The luminary bags light the way for the burial procession of Christ on Holy Friday and display the name of your loved ones. See the attached form and submit no later than April 23rd.
Lenten donations are also being greatfully accepted at this time to help with the many supplies utilized during this blessed season of paschoral services. A list of supplies with suggested donations is included in the above attachment. Checks should be made to the Annunciation Greek Orthodox Church with the item donated noted on the check. Thank You!
Easter Tsourekia Orders
This year Easter Tsourekia will be ordered from a Greek Bakery in NYC and available at Tina's European Fashions for pickup on State Street in downtown Newburyport. To place your order call Tina at (978) 462-7043 or email mariaconnor@comcast.net
Sunday of Orthodoxy March 31st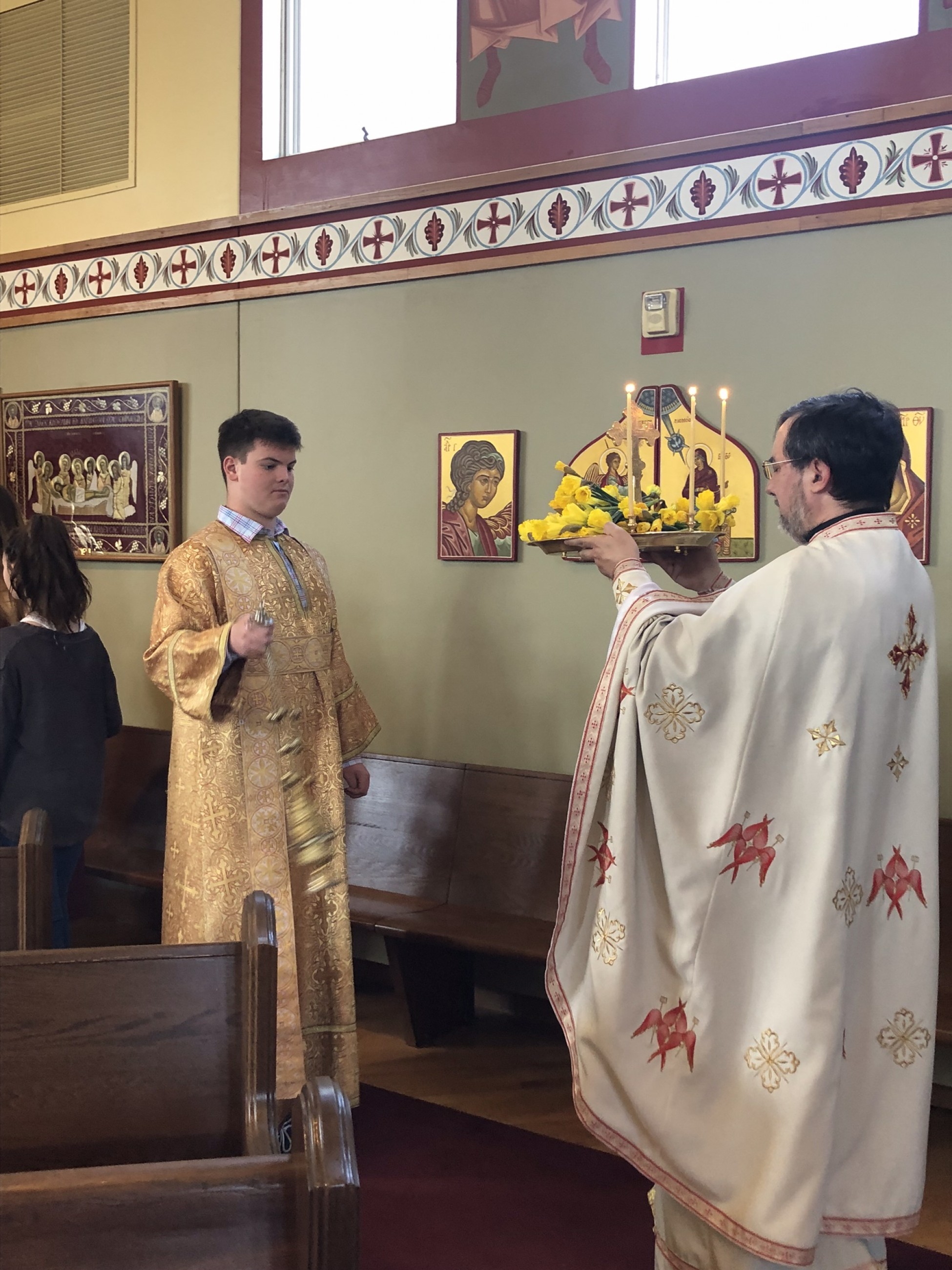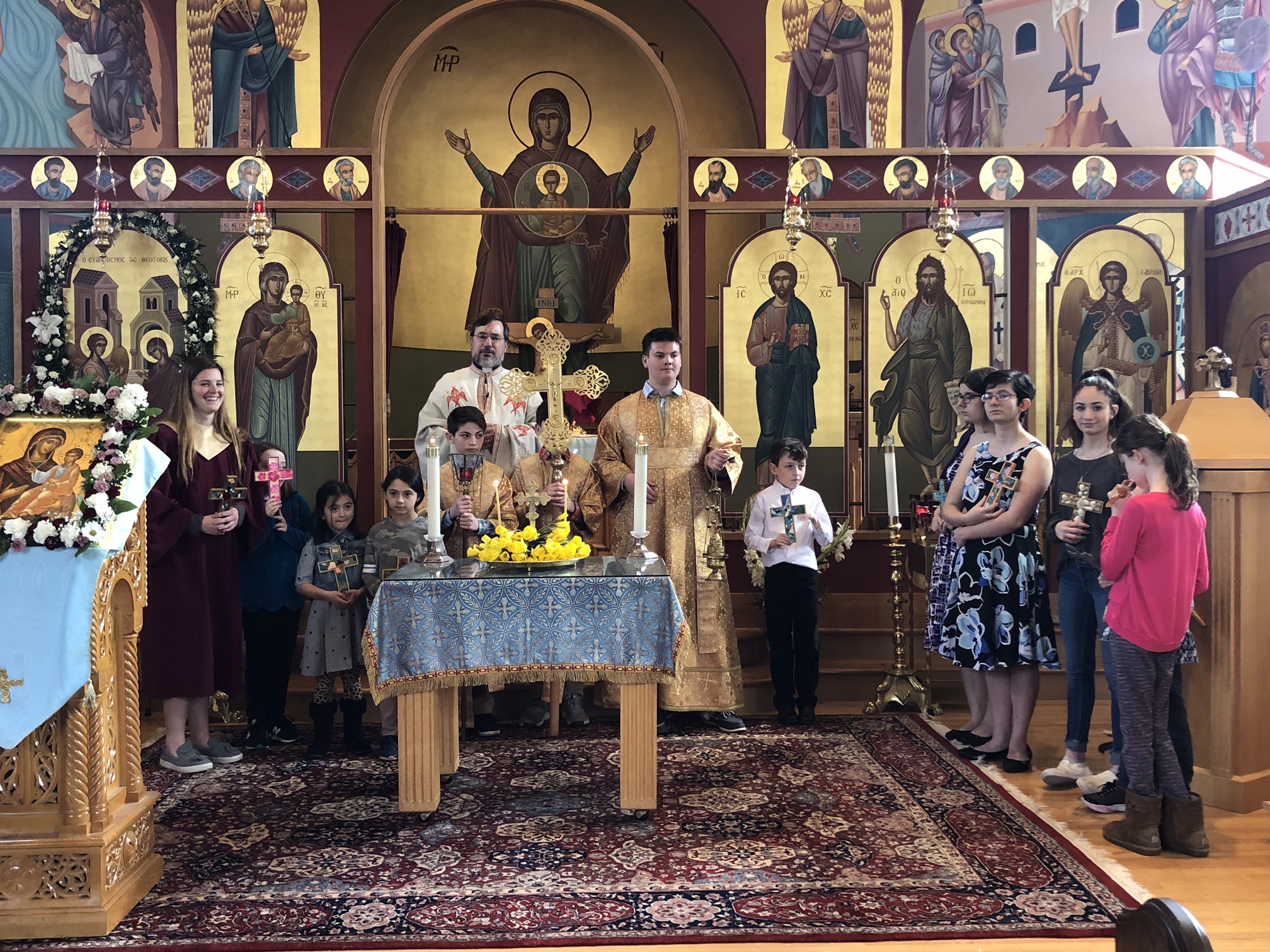 See more photos of this event here.
GLAS Membership 2019 Dues
It's time to renew or newly join this philanthropic arm of the Annunciation Greek Orthodox Church. Membership dues for 2019 is just $15. We dedicate our time and talents to our church events and a wide variety of community and global charities. We greatly need your help to continue our traditions and events. All new members are welcome. Please contact Dorothy Davis at (978) 816-8858 for further information about how you can get involved. Dues checks should be made payable to GLAS and given to Dorothy Davis or Elaine Fiasconaro. Thank You!
House Blessings
Please contact Fr. Costin to have your house blessed! A sign up sheet is available in the Narthex.
Save the Date
Saturday of Lazarus, April 20th
Divine Liturgy starts at 9:30 am followed by Breakfast & Palm Making - Everyone Welcome!
Palm Sunday Luncheon April 21st
Divine Liturgy starts at 9:30 am with blessing of palms. Please join us immediately following Divine Liturgy for a delicious meal prepared by the Greek Ladies Aide Society. Reservations Required by 4/14. See attached form for details and to RSVP.
Bridegroom Service April 21 - April 23
Nightly service begins at 7 pm.
Holy Unction April 24th
4 PM Holy Unction; 7 PM Last Supper Matins with Anointing
Holy & Great Thursday, April 25 - 9:30 AM Vesperal Liturgy (Last Supper); 7 PM Service of the Twelve Gospels
Holy Friday Sunday School Retreat & Services
9 am -3 pm Sunday School Retreat
3 pm Service of Unnailing
7 pm Lamentations
Holy & Great Saturday, April 27 - 9:30 AM Vesperal Liturgy; 11:30 PM Resurrection Canon
Holy & Great Sunday of Pascha, April 28 - 12:00 Midnight - Anastasis & Liturgy of Pascha Followed by Avogolemono Soup and Lamb Fellowship; 11:00 AM Vespers of Agape Followed by Easter Egg Hunt!
Parish Resources

Weekly Sunday Bulletin View the parish weekly news bulletin online, includes news and events.

Monthly Bulletin - The Beacon
Shining Forth the Good News!

Orthodox Marketplace - The official online store of the Greek Orthodox Archdiocese of America.
Send an Iconogram Send a message to a loved one or a friend in celebration of a name day, feast day, or sacrament.

Annunciation Online "Like" our Facebook page so that you may be kept up on services, events and activities.


Online Chapel