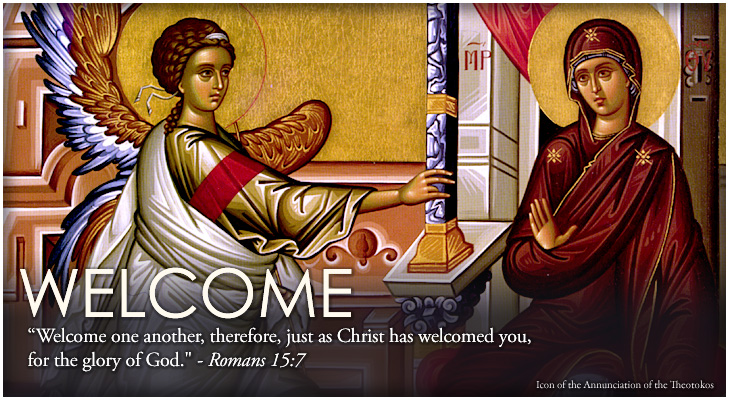 We invite and welcome you to worship with us every Sunday in person or via livestream.
Orthros: 9:00am
Divine Liturgy: 10:00am
All are invited to join us for Fellowship and refreshments immediately following Divine Liturgy.
Epiphany Liturgy followed by Blessing of Waters - Friday, January 6 at 9:30am
Click here for livestream
Vesperal Liturgy of Theophany - Thursday, January 5 at 6pm
Click here for livestream
Sights of Orthodoxy
Watch the whole program here
---
Stewardship News: It's time to pledge for 2022
STEWARDSHIP APPEAL 2022 - PLEASE READ!
2022 Stewardship Pledge Card front and back
Lighting a candle as part of prayer is a natural expression seen in Orthodox Churches. If you cannot be with us in person, you have the opportunity to virtually light a candle, say a prayer, and consider a donation through this interactive app.
Additional information on livestreaming of Divine Liturgy & other services throughout United States can be found at https://www.goarch.org/live-broadcasts.
---
E-Giving Donations to AGOC
A convenient way for you to give to our church online using your computer or smartphone. You can easily make your Stewardship Payment(s), Memorial Fund Offering, and other donations in a safe and secure way. Enjoy the convenience of making credit card or debit card, or directly from your bank account donations. View your giving history to track all donations in one place, including to all of our Greek to Go events.
Our deepest appreciation to those parishioners who can make an extra donation to help sustain our church during this difficult time.
Find the red button "Click to Donate Online" in the right column of this website.
---
Zoom activities
For all activities offered through zoom click on:
https://us02web.zoom.us/j/2563414551 (for those with internet connection)
Meeting ID: 256 341 4551 Dial +1 301 715 8592 (for those with a regular phone only)
You can connect with a computer, laptop, tablet or smartphone (download the zoom app from the app store), but you can also dial in with a regular phone.
Please enjoy the photos from the Holy Friday Retreat and Service by clicking the link below.
Upcoming Services & Events
---
Online Chapel
Save the Date
VIRTUAL SERVICES OFFERED BY CLICKING ON SERVICE LISTED ON THE HOME PAGE AND FOLLOWING THE INSTRUCTIONS TO LINK.
---


Weekly Sunday Bulletin View the parish weekly news bulletin online, includes news and events.

Monthly Bulletin - The Beacon -Shining Forth the Good News!

Orthodox Marketplace - The official online store of the Greek Orthodox Archdiocese of America.

Send an Iconogram Send a message to a loved one or a friend in celebration of a name day, feast day, or sacrament.

Annunciation Online "Like" our Facebook page so that you may be kept up on services, events and activities.